About ReDuX:RMx and Race of Tan Records
ReDuX:RMx is a recording studio duo, with Bret Menezes and Eddie Paton at its core. The concept was born in the cosmopolitan city of Toronto, Canada, where cafes and hip eateries feature a fusion of world cultures.

Taking these sounds and combining them with modern electronica, ReDuX:RMx, as their name suggests, have "revisited" and "remixed" their original world music and nu-jazz for contemporary urban living.

Their music reflects the concept of their imprint label, Race of Tan Records - the coming together of races and cultures in the art and spirit of music.
ReDuX:RMx music appears on WARNER MUSIC compilations.
Buy tracks or entire ReDuX:RMx albums on the 
MUSIC
 page.
Listen to our music on 
Spotify
 and 
Apple Music
.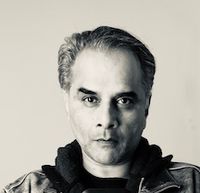 Bret Archangel Menezes was formerly based in Los Angeles as a media composer and music supervisor for Sony TV and Columbia Pictures, specifically for Merv Griffin Enterprises, overseeing music production and creation with music director, Mort Lindsey (Judy Garland, Barbra Streisand) for JEOPARDY!, WHEEL OF FORTUNE and various pilots, along with music business administration, while attending UCLA (composition, musicology) and International College (paralegal, entertainment law).
North Ivar Avenue next to the famous Capitol Records on Vine Street in Hollywood is where Bret lived when he first arrived in La-La Land, and the reason for naming his company after this street.

He's written music for professional theater in L.A., Toronto, and Australia and has scored for feature films such as DOM and RUN ROBOT RUN.

Bret creates music for ad agencies, such as Draft and Fuel - as well as composes music for such events as the prestigious annual FASHION CARES media gala in Toronto while running his IP rights management, music supervision and publishing company, North Ivar Music.

He represents various film and jazz composers, and songwriters in placement of their music in various traditional and digital media and is expanding to online video production and rights management for photographers.

He is a member of SOCAN, ASCAP and the Screen Composers Guild of Canada (SCGC). Bret is a Professional Advisory Council (PAC) member for Sheridan College's music for media program.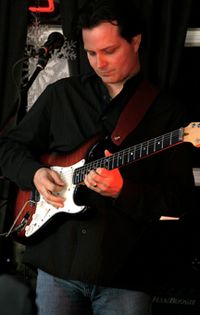 Eddie Paton is a Juno nominated artist for his work with Sultans of String and co-founder of the critically acclaimed music project ReDuX:RMx. He is currently touring with Pavlo.

A classically trained virtuoso guitarist, Eddie thrives on his eclectic career as a performer, singer/songwriter and recording artist of Latin, Hard Rock, Funk, Jazz and R&B. 
Eddie has released his debut album SOLIS on Race of Tan Records, produced by himself and Bret Menezes for North Ivar Music.